Streamlining Warehouse Operations
Warehouse modernization is taking hold in facilities around the world as federal agencies strive to increase speed, accuracy and accountability. Enterprise-grade mobile solutions from Zebra are helping agencies automate processes, simplify operations and drive productivity improvements.
Federal Warehouse Operations Need to Modernize
80% of the federal government IT budget is used to maintain existing technology.1
60% of the most critical federal legacy systems in need of modernization have a high or moderately high security risk. 2
Ensure Fast, Efficient Asset Tracking
Federal agencies are responsible for effective management of their assets and resources. Zebra's mobile computers are built to support the need of your agency to gather and securely document the condition of all your assets.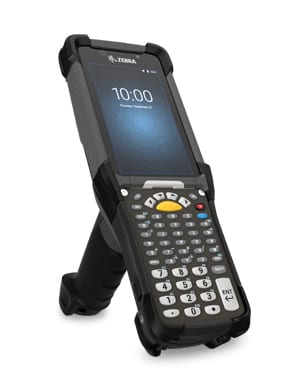 Zebra MC9300
The Zebra MC9300 mobile computer is built for asset management, designed to deliver the ultimate in advanced data capture with a capture radius up to 70 feet—and superior performance and rugged reliability.
Keep Your Warehouse Workforce Connected
Take productivity and efficiency to new levels with Zebra mobile computers. Provide workers with devices that enable unparalleled scanning performance with intuitive screens that simplify and enhance the user experience.
Zebra MC3300
Lightweight, versatile MC3300 mobile computers offer distinct form factors, three keyboards and industry-leading data capture options—making it easy to customize to your specific needs.
Maximize Asset Intelligence with Printers
Government agencies are charged with a significant volume of assets that need to be tracked
every day. Zebra industrial printers offer a range of outputs for barcode and RFID labels, tags,
wristbands and more—to streamline asset management.
Zebra ZD420
Zebra's ZD420 series of desktop printers are leaders in deployment and management simplicity. Easy to use, with direct thermal and thermal transfer options, these rugged printers are great solutions for a wide range of applications.

Zebra mobile devices are approved for GSA IT Schedule 70 procurement.
That means that your federal agency now has access to the full Zebra portfolio of rugged mobile computing solutions.3
1. https://gcn.com/articles/2021/02/09/modernization-legacy-systems.aspx
2. https://www.gao.gov/products/gao-19-471#summary
3. https://www.cdotech.com/wp-content/uploads/2020/05/GSA-2020-Pricelist.pdf
ZEBRA and the stylized Zebra head are trademarks of Zebra Technologies Corp., registered in many jurisdictions worldwide. All
other trademarks are the property of their respective owners. ©2021 Zebra Technologies Corp. and/or its affiliate.