News
CDO Adds Apptricity Software to Army AIT-6 Contract
Apptricity Software Added to CDO Technologies Army AIT-6 Contract
Dayton, OH (May 21, 2021) – The Apptricity Armory Asset Management software was added to CDO Technologies Automatic Identification Technology (AIT-6) Contract. The Apptricity solution replaces the existing software product for Small Arms Room Management Software. The new relationship allows CDO Technologies the opportunity to extend much more competitive pricing to all Contract customers.
AIT-6, managed by the Army Contracting Command in Rock Island, IL, includes hardware, software and Technical Engineering Services (TES) for use by the Department of Defense, United States Coast Guard, North Atlantic Treaty Organizations, Foreign Military Sales, and other Federal Agencies and contractors. The objective of the AIT-6 acquisition is to provide state-of-the-art logistics identification, tracking, locating and monitoring of assets and processes. This AIT technology will deliver standardization and inter-operability among Government users of AIT components purchased from this Contract.
"AIT-6 has given all Department of Defense IT organizations an opportunity to purchase state-of-the-art solutions to meet their current and future demands," said Don Ertel, Senior Vice President of Operations at CDO Technologies.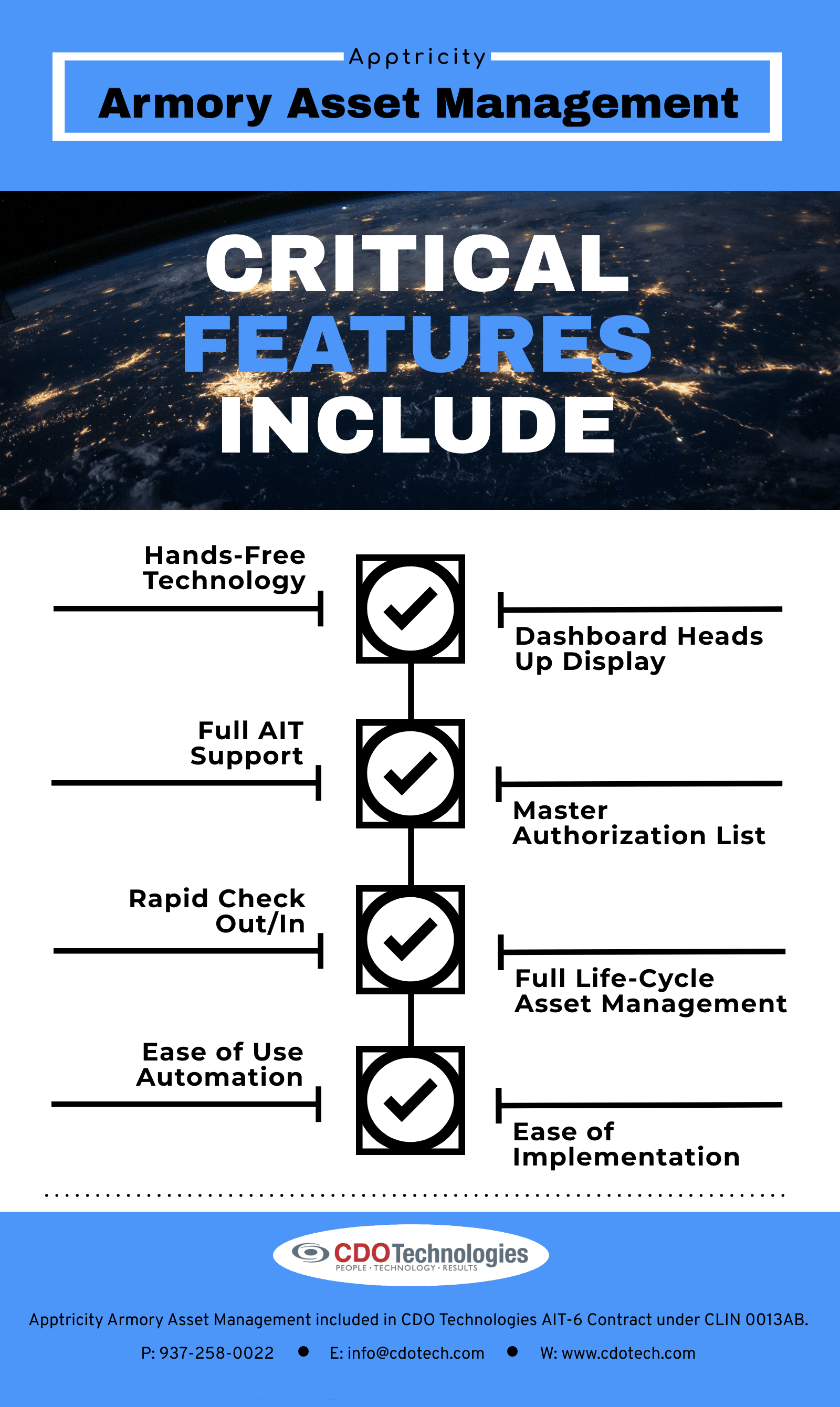 Apptricity Armory Asset Management has many features that improve efficiency and control. Full life cycle asset management allows documentation from acquisition to disposition. The solution is easy to use and supports hands-free technology to streamline and automate armory management.
As noted by Tim Garcia, Apptricity President, "The Contract also provides options for Technical Engineering Services (TES) to allow our team to directly assist customers with installation, training and on-site setup of our software, to assure a seamless implementation."
About Apptricity
Apptricity is the leading Global Provider of Supply Chain Execution Cloud Software with integrated IoT technology that delivers Real-Time Visibility in the Enterprise Asset, Inventory and Field Services Cloud Application Enterprise Space.
About CDO Technologies
Since 1995, CDO Technologies has delivered solutions to federal and commercial business problems. Their services include technology and process improvement to enhance efficiency and affordability. The right technology and the right people empower their customers to achieve more.
CONTACT INFORMATION:
CDO Technologies, www.cdotech.com
Don Ertel
Phone: 937-476-2212
Email: don.ertel@cdotech.com
Apptricity Corporation, www.apptricity.com
Timothy Garcia
Phone: 214-596-0601
Email: tgarcia@apptricity.com